Welcome to the Frank J. Veith International Society
A Society for All Practicing Vascular Surgeons and Vascular Specialists
FJV International Society Represented at the 2019 SVS Fund Raising Gala Dinner at the VAM2019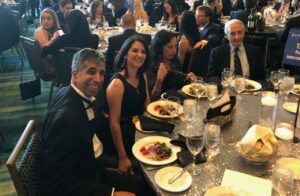 Shape the Way Vascular Surgery is Practiced! Join Today!
Support Our Society!
As we are a dynamic society, who pledges to follow Dr. Frank J. Veith's educational and training philosophies, we encourage fellows and practicing vascular surgeons to support our organization.
Organization of Your Choice
The FJVIS strives to be the organization of choice for young practicing vascular surgeons and those surgeons in alignment with the mission of our society.
A Clear Mission
Our mission is clear.  That is to provide high quality, professional and relevant educational resources so our members are effectively equipped to improve patient outcomes through innovative science and best practice in Vascular Surgery.